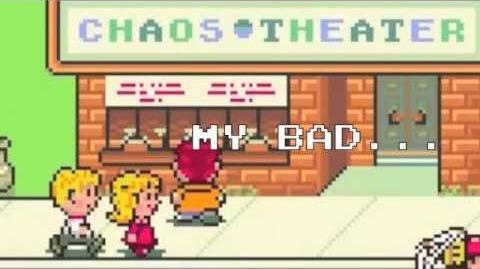 Twoson is the third song from the Earthbound E.P by Go:Eskimo.
Background
Edit
Twoson is the second town to appear Earthbound.
Ness is allowed here after he has defeated Captain Strong.
When he discovers that Paula has been kidnapped, he defeats Everdred in order to find her.
When Everdred is defeated, he tells Ness that she is being held at Happy Happy Village.
Character Voices
Edit
Towns Folk
Mr.T Guy
Bike Store Guy
Ness
Paulas Dad
Mach Pizza Lady
Ghosts
Everdred
Towns Folk:
Welcome to two town
Won't you stick around?
Bike Store Guy:
Take a free bike kid'!
Ness:
Woah thanks!
Bike Store Guy:
Just dont, ya lose it'!
Towns Folk:
Welcome to two town
Won't you stick around?
Mr.T Guy:
I look a like Mr.T 
Just don't tell anybody
Or They'll sue…
Paula's Dad:
To see or not to see?
Paula won't see just anybody
So are you from the TV? No?
Oh, you must be Ness
Wait there…
…
…
Paulas not here, come back later?
Ness:
I'll meet...
Poor investments; fruit inventors
Cranky Lady, Party Man
Retro hippie; I disagree
Unassuming local guy
Anyone would think I was the public enemy
They don't see that I always come peacefully
Mach Pizza Lady:
Welcome to Mach Pizza why don't you give us a call?
Ness:
Can't I just order in here?
Mach Pizza Lady:
Only delivery fool!
Ness:
Alright, I'll go through the tunnel
Shit there's ghosts in here! 
Ghosts:
WOO!
Ness:
I can't get out this way; so onto the park for some...
Everdred:
HEY!
What are you doing he-he-here?
Ho-ho-hoe?
We'll catch up later now let's time lock horns
Ness:
You're a grown-ass man, I'm thirteen years old...
Everdred:
Who cares about age? Or Numbers? Or Sequencey?
''Ness:
Shut the fuck up, get the fuck off my frequency 
Everdred:
what a big mouth, for such a small kid
Ness:
My baseball bat your face, my indignation your lip
Everdred:
I'll teach you a lesson you won't soon forget
Ness:
This battle is over, never posed a threat to me
Everdred:
Yes, I'm Everdred, boss of burgling park
And when I jumped off the roof I broke my ankle, It wasn't so smart
I guess I lost and nothing gonna change that
I hear you're looking for Paula; I know where she went
A chubby boy and a man in blue took paula away
They headed for a town not far from peaceful rest valley
See you around kid and good luck on your quest
Be sure to come back now! DON'T you forget!
Ness:
I'll make DAMN sure!
That EVERYTHING is alright..
No need to lose any sleep tonight
Towns Folk:
Goodbye!
Not yet!
Sorry!
Fuck...
My bad..
Goodbye!
To two town!