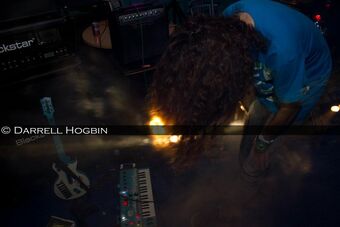 The First Live Show took place on December 11th 2011 at The Echo, Los Angeles, CA two days before Go:Eskimo formed.
During the show there was a box that had 100 assorted Go:Eskimo laser rings (Red, Blue, Green, White, Purple) and free Pokémon cards.
"Bold Faced Lies From Bold Faced Guys"
"She Sells Sea Shells"
"Given The Circumstances I Doubt We Could Ever Meet Again
"Megamandem (Ha! The Only Thing That Gives Me Cavities Is Dynamite!"
"The Castevania Song" (Silkbags & Graveyard Ducks)
"Bold Faced Lies, From Bold Faced Guys" (Encore)
Equiptment used
Edit
MicroKORG
LSDJ
iPhone 4 + Backing Track app
Despite being a Go:Eskimo show, Sean was present and helped by giving out laser rings, pokemon cards and Played The Big Destroy'O .